Establishing Mindrolling in the West
Mindrolling International News Staff
Published: 30 August 2019
Scroll down to read 2019 newsOn January 10th, 2019, twenty-one meditators marked retreat boundaries, recited auspicious prayers, and entered into the first 100-day solitary retreat held at Mindrolling Lotus Garden. Upon the ritual closing of every retreatant's door by Drubpön (retreat master) Lama Roar Vestre, each retreatant opened the door of teachings, instructions and practices that Her Eminence Jetsün Khandro Rinpoche has bestowed upon her students over many years. Simultaneously, throughout the United States, many other practitioners also undertook solitary retreats in their homes. In embarking upon this practice commitment, every one of these retreatants expressed the heart blood of the Mindrolling lineage through sustained and devoted practice.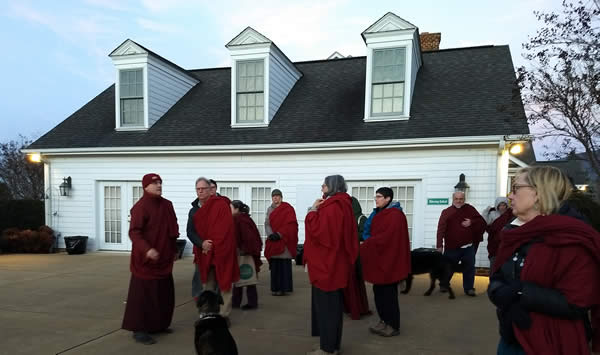 When the Lotus Garden retreatants emerged in mid-April, each of them expressed their deep gratitude for the extraordinary good fortune of having completed the retreat and their desire to do more in the future. For the establishment of the Mindrolling lineage of teachings and wisdom to take root in the west, these profound practices must be understood in their entirety and practiced without reservation. The 100-day solitary retreat marked an important milestone on that path.
Throughout this year, teachers and students at both Mindrolling Lotus Garden as well as Mindrolling International continued to work tirelessly on numerous fronts to ensure that the precious Mindrolling lineage takes root here and flourishes.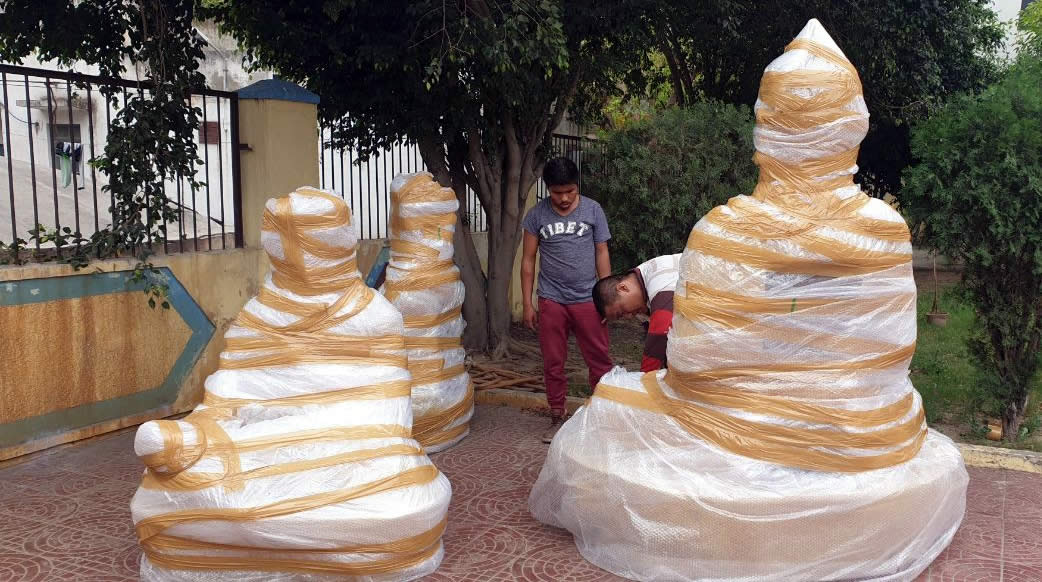 Despite an unexpectedly cold winter, both interior and exterior construction on the temple at Lotus Garden continued without interruption, with the installation of heating and air conditioning throughout the building, completion of all rough plumbing and electrical work, and the near completion of the stone siding on the temple's exterior. In India, artisans completed the carving and painting of the four massive traditional Tibetan wooden door frames that will be installed in each entrance to the temple. Those door frames, joined by three massive statues of Shakyamuni Buddha, Guru Rinpoche and Terdag Lingpa, arrived in the US by boat and will arrive at Lotus Garden very soon. Locally, Mindrolling Lotus Garden community members added their efforts during the summer months to complete improvement projects to roads and buildings.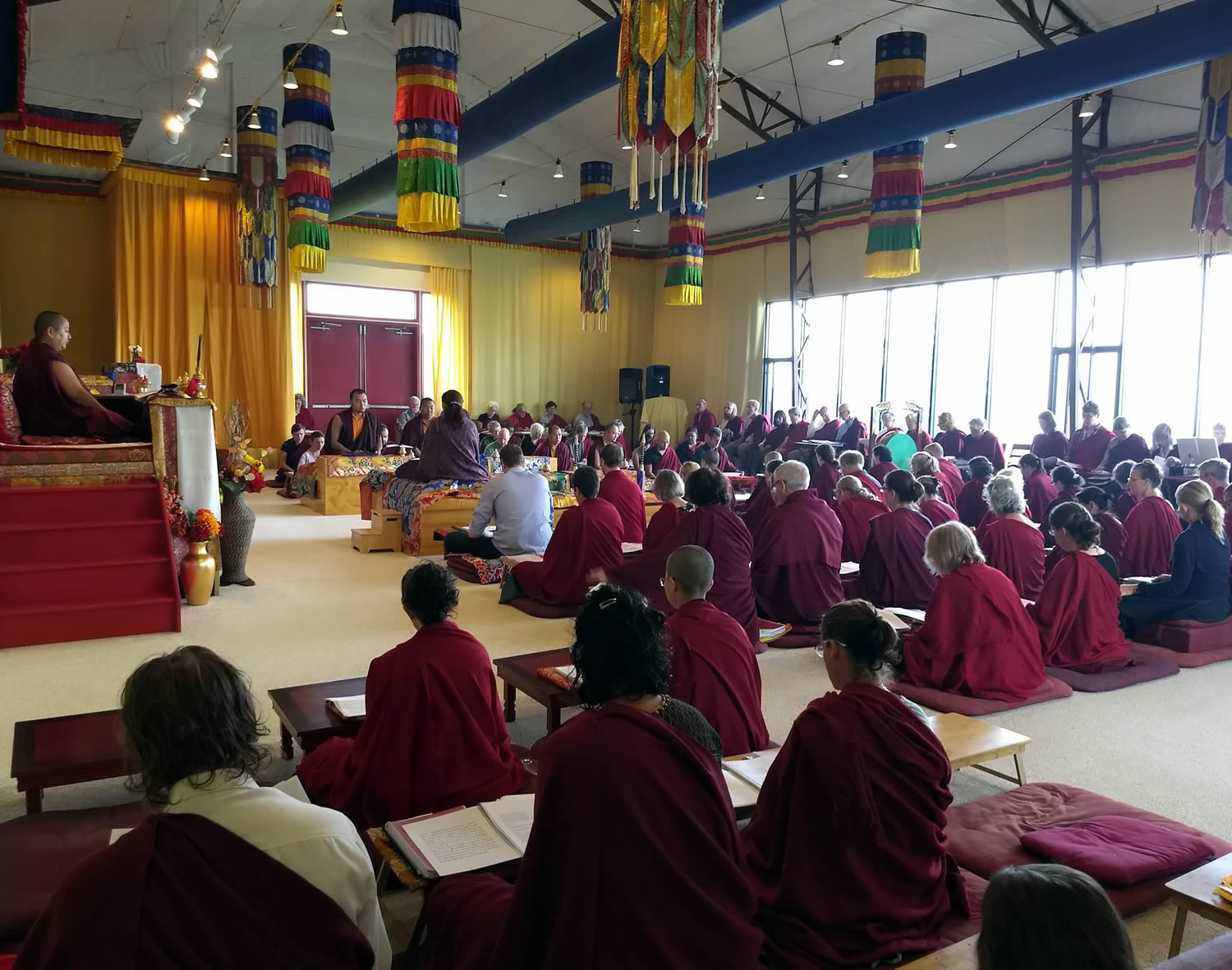 For transmission of the authentic Buddhadharma to occur it is becoming increasingly clear that all of these types of effort and by many people, are vital and necessary. It is only through the union of instruction, study, retreat, work, and practice that the authentic teachings of the Buddhadharma will be planted in the West. It is through the tireless efforts of Jetsün Khandro Rinpoche that the seed of the precious Mindrolling lineage has been planted and taken firm root here in Mindrolling Pema Gatsal, also known as Lotus Garden. Everyone here at Lotus Garden is united as one in our aspiration for the authentic tradition of Terdag Lingpa to be preserved here at Pema Gatsal without any dilution or decline. May the splendor of this unsurpassable lineage spread in all ten directions bringing the joyous dance of benefit to all sentient beings and may the brilliant sun of the Mindrolling lineage continually shine radiantly here at Mindrolling Pema Gatsal!
Stories from 2019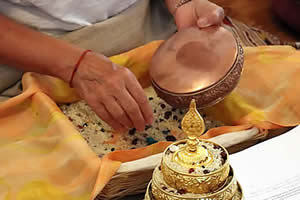 The Heart of the Vajrayana Path
During the final days of the Mindrol Lekshey Retreat, Mindrolling Jetsün Khandro Rinpoche began a new cycle of teachings on the Ati Zabdön Ngöndro – the preliminary practices of the Vajrayana.
Story | Photos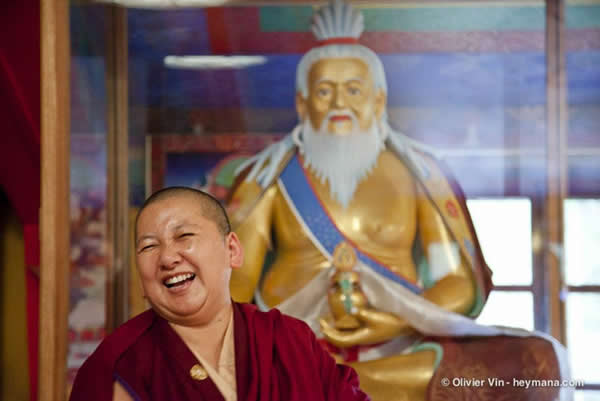 What is Mindrolling?
Mindrolling is not so much a place. Mindrolling is about your mind.
—Jetsün Khandro Rinpoche
Listen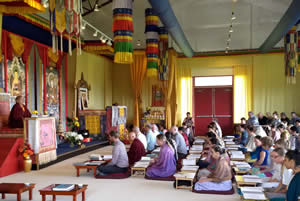 Crossing the Ocean of Suffering to Buddhahood
H.E. Jetsün Khandro Rinpoche continued bestowing teachings on Rabjam Longchenpa's The Great Chariot.
Story | Photos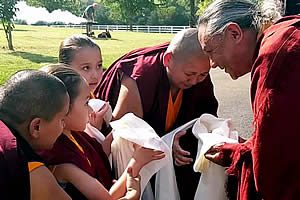 In the Luminous Mandala of Mind and Wisdom
The sangha was delighted to welcome H.E. Dzigar Kongtrul Rinpoche who continued with teachings on the profound Guhyagarbhatantra.
Photos | Video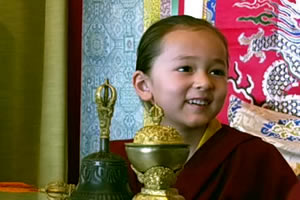 Hope and Inspiration for the Future of Mindrolling
On Dungse Rinpoche's 5th birthday, the entire day was marked by prayers and celebration.
Photos | Video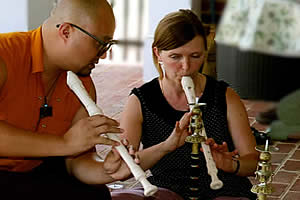 Training in the Renowned Traditions of Mindrolling
Teachers and students kept up a busy schedule of language and ritual classes – Tibetan language and reading, instruments, shrine, torma, grammar and liturgy review.
Photos | Video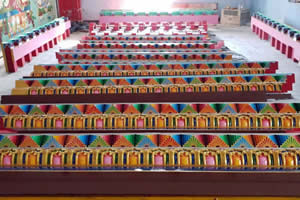 Reaching Critical Milestones at Mindrol Gatsal
Construction has continued steadily. Door frames, ornaments and statues, which have been en route from India by sea, have arrived at customs in the Port of New Jersey. Delivery is expected here at Lotus Garden in the coming days.
Photos | Video
Summer Projects That Improve and Uplift
One building was pink for a few days and many roads were re-surfaced. Re-siding of two buildings has been underway.
Story | Photos
MINDROLLING — 343 YEARS
These links will transport you to the Mindrolling Monastery website.
23982total visits,340visits today