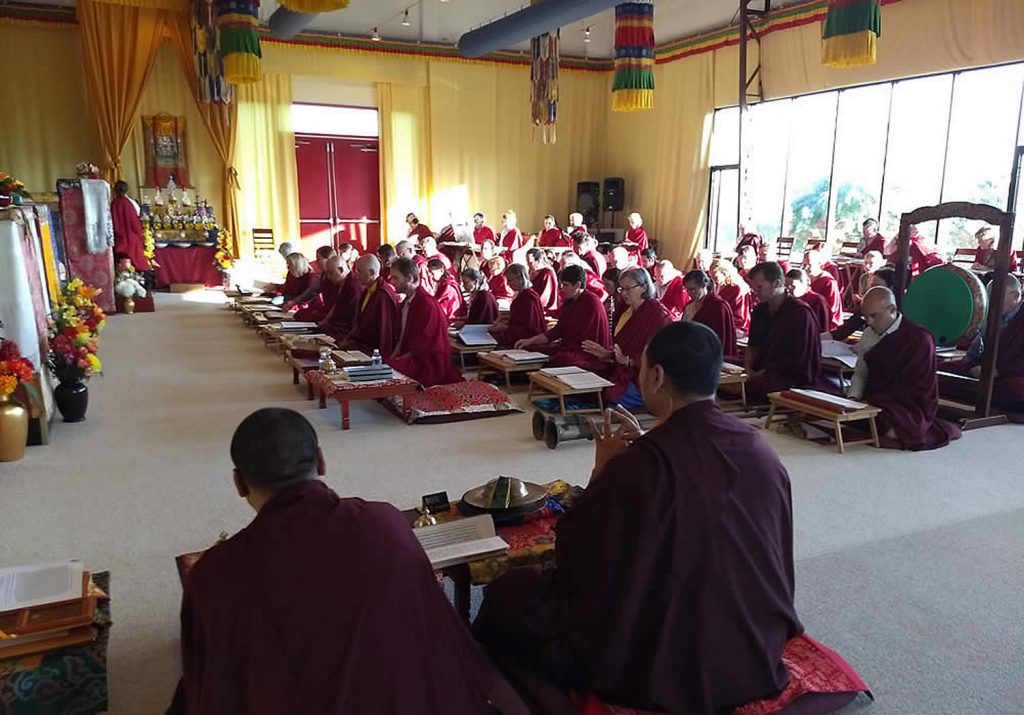 Due to the kindness of numerous wonderful masters, the precious Buddhadharma has been widely taught in the Western world for many decades. Countless students have dedicated their effort and devotion to the study and practice of the teachings of the Victorious One.
But because of various social and economic pressures, many dedicated practitioners face challenges in the thorough study and practice of the Dharma. One of the main challenges we face is that, like a jigsaw puzzle, the teachings become scattered and fragmented with the result that the continuity and in-depth exploration of topics often become difficult. Both teachers and students have the aspiration to truly dedicate intensive time and effort but practical considerations make it difficult.
However, it is an undeniable fact that bringing about a strong and authentic presence of Vajrayana Buddhism cannot happen without the thorough understanding of it. This makes training the Western students to study and accomplish the Vajrayana teachings thoroughly and have an in-depth experience of the teachings and practices of utmost importance. It is clear that the infrastructure for training Western students is a much-needed necessity for the preservation and flourishing of the authentic Vajrayana teachings.
With this great vision in mind, Jetsün Khandro Rinpoche has established the Mindrol Lekshey project under the Mindrolling International Foundation. This project aims to train a select group of Western students from all over the world in all the various aspects of Tibetan Buddhism. Since Mindrolling is known as the source of the Nyingma rituals and traditions, this study and practice program will be based on a ten-year curriculum drawn from the Mindrolling lineage's profound and impeccable Vajrayana ritual traditions. Apart from the study of rituals and all its aspects, this program will cover language, philosophy and meditative practice. The Mindrol Lekshey project will support this group of approved students on complete scholarship for this program so that they can fully dedicate themselves to their study and practice.
We pray that this Mindrol Lekshey project becomes an auspicious seed that grows into a wish-fulfilling tree that can truly serve the Buddhadharma and bring benefit to all sentient beings.
The first semester of the Mindrol Lekshey Intensive will begin on the 5th of January 2020 and will be for two and half months. The second semester is scheduled to begin in June of 2020.