Due to the continued spread of the Covid-19 virus, and in the interest of everyone's health and well-being, classes are cancelled until further notice.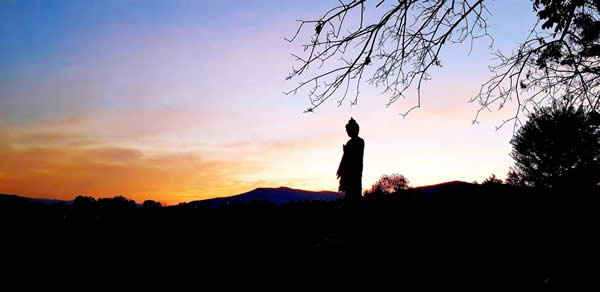 Date: Weekly on Wednesday evenings
Time: 7:00—9:00 p.m.
Place: Künzang Gatsal Shrine Room
Led by: Lotus Garden lopöns  and senior students
A weekly Local Study Group meets at Lotus Garden. It is open to those in the area wishing to deepen their knowledge of the Buddhist path through study and personal practice. Led by a lopön, or senior teacher, classes run through the year, with the exception of holidays and those times when major Lotus Garden programs are taking place. At such times, the class meets for sitting meditation and individual presentations and discussion. The curriculum is rich and varied comprising the three main stages, or yanas,of the Buddhist path: Hinayana, Mahayana, and Vajrayana. Through study, along with personal practice, the class provides meaningful support for students, old and new.
The current focus of the 2019-20 class is the classic Mahayana text, Nagarjuna's Letter to a Friend.* Written in the form of 123 poetic verses of advice to a South Indian king, it is a pithy and inspiring look at how the essence of the bodhisattva path can be brought fully into everyday life. Some basic knowledge of Buddhism and/or willingness to round out one's background through self-study is helpful for new students.
The Local Study Group meets on Wednesday evenings from 7:00-9:00p.m. (except on announced holidays) A forty-minute session of sitting meditation is followed by tea, study, and discussion.
NOTE: If you do not live near Lotus Garden, please check the list of other study groups in North America and in Europe.
*The version of this text used in class is by the Padmakara translation group is available from Amazon or Shambhala Publications.
Questions?
For more information, please contact us by email at registration@lotusgardens.org, or by telephone at 1.540.778-2405.
Calendar
Map
Join Mailing List
Contact Us
Last update: 24 November 2019
Total Page Visits: 1946 - Today Page Visits: 7