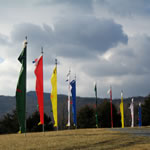 Date: Weekly on Wednesday evenings. (First meeting of the new year begins in October)
Time: 7:00—9:00 p.m.
Place: Künzang Gatsal Shrine Room
Led by: Lopön Helen Berliner
The Wednesday Night (Virginia Local) Study Group is open to students who wish to learn not only about mindfulness meditation, in general, but also the teachings and practice as taught by the Buddha. Classes begin with a session of sitting mediation followed by tea, study, and discussion. Some basic understanding of Buddhism is helpful.
Each study/practice year begins in the Fall shortly after the annual Vajrayana Retreat, and ends in early Summer before the annual Mindrol Lekshey program. Regular updates via email include a variety of recommended resources: e.g. the online teachings of Jetsün Khandro Rinpoche, and related print and media resources, both Buddhist and non-buddhist.
While each year's study theme is different, in support of students, old and new, the class constantly revisits the overview of the three basic stages, or yanas, of the Buddhist path, including:
The foundation teachings—Looking, in general, at ego's modus operandi and the role of meditation; and in particular at the Buddha's teachings on the Four Noble Truths, the "wheel of life," the eight worldly concerns of hope and fear, the ten virtuous and non-virtuous actions, and eightfold path. In this context, the practitioner's study and practice emphasizes sitting meditation, the four Foundations of mindfulness, and the identification of the subtle causes of suffering in daily life.
The Mahayana teachings—Mahayana study and practice includes contemplation of the Heart Sutra, and topics such as emptiness, compassion, bodhichitta, and the bodhisattva path. During the mahayana studies, students are instructed in the practices of lojong and tonglen.
The Vajrayana teachings—An introduction to the view and practice of vajrayana includes topics such as buddha nature, wisdom and skillful means, the nature of perception, the role of a teacher, irreversible confidence, and the transformation of neurosis into wisdom.
This contemplative approach to human psychology and ultimate realization encourages all students to deepen their knowledge of the Buddhist path through personal practice and experience.
Questions?
For more information, please contact us by email at registration@lotusgardens.org, or by telephone at 1.540.778-2405.
Calendar
Map
Join Mailing List
Contact Us
1226total visits,6visits today