May 27th (Friday evening)—May 30th (Monday late afternoon)
Tuition: $300 full program / $270 (members)
(10% discount for members paying $50/month or more)
Mindrolling Lotus Garden is delighted to invite all who have received the sadhana of Mindrolling Vajrasattva (Minling Dorsem) to gather together for a Vajrasattva Ritual Review over the Memorial Day holiday. This retreat will be a wonderful opportunity to refine and deepen our understanding of the ritual aspects of the Glorious Heart Practice of Vajrasattva and to celebrate the beginning of summer.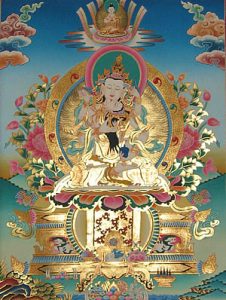 In the past few years, Mindrolling Jetsün Khandro Rinpoche kindly bestowed the empowerment, reading transmission, and detailed explanation of this profound sadhana to many fortunate students. In addition, Mindrolling Jetsün Dechen Paldrön and the nuns of Samten Tse graciously and precisely instructed the sangha in the ritual details of this precious practice.
Ritual instructors Lisa Cyrus, Steven Iverson, and Alex Ryan will guide the review of the ritual details of the Minling Dorsem, and the program will culminate with a group practice of the sadhana together. The retreat will be under the direction of Jetsün Dechen Paldrön.
NOTE: This program is open to students who received the empowerment of Minling Dorsem and permission to practice the sadhana from Rinpoche.
Arrival and check-in will take place at Lotus Garden between 4:00 p.m. and 6:00 p.m. on Friday, May 27th, followed by dinner at 6:30 p.m. Details concerning the weekend schedule will be made available at this time. The program will conclude in the late afternoon Monday, May 30th.
Meals and housing are provided at no extra charge.
For more information, please contact us by email at registration@lotusgardens.org
or by telephone at 1-540-778-2405.