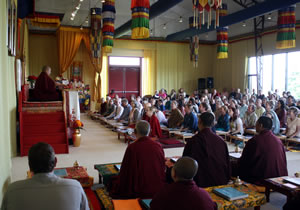 The vajrayana sangha has gathered at Lotus Garden, along with a group of new vajrayana students, for the annual Vajrayana Retreat. During the first six-day section, entitled Introduction to Vajrayana, Rinpoche taught on the skillful means of the Creation and Completion practices of the vajrayana, followed by the bestowal of profound oral instructions on the Self Liberation of the Mind. Despite the rainy weather and predictions of an approaching hurricane, everyone is in high spirits.
During the second section of this retreat to begin on Thursday, Rinpoche will continue to bestow teachings on the Yeshe Lama in the context of the chö gar (dharma encampment) for for those who have already received the transmissions, teachings and practices of the Yeshe Lama and/or Six Yogas.
At the conclusion of the Vajrayana Retreat, the chief umdze of Mindrolling, Venerable Tulku Ngawang Jigdral Kunga Rinpoche, will lead the entire vajrayana sangha in for a three-day Vajrasattva drubchö—authentic and renowned ritual tradition of the Mindrolling Monastery. It is believed that tremendous benefit and merit arise from the collective practice of a drubchö for each practitioner in particular, and all sentient beings in general.
42total visits,3visits today